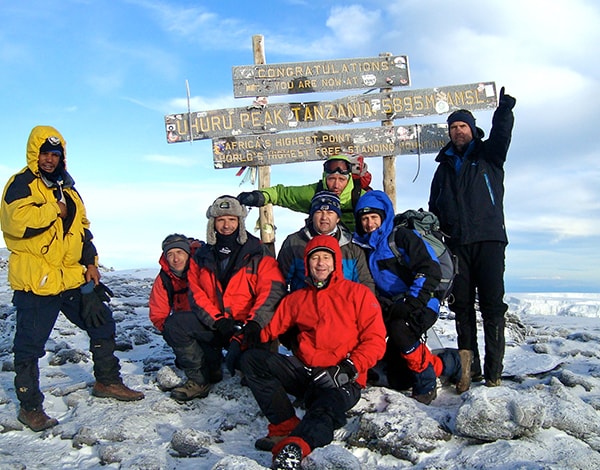 Kilimanjaro Climbing
One of the "Seven Summits" the mighty Mount Kilimanjaro is an everlasting magnet for adventurers and mountaineers. Nestled between the border of Kenya and Tanzania, the highest mountain of Africa and highest freestanding mountain in the world lures travellers from all corners of the globe to conquer its magnificence. We invite you to come and try Mount Kilimanjaro trekking for yourself. Experience the pride of making it to the top of Kilimanjaro, and the feeling of freedom you get when standing on the top of the world!
---
Tanzania Safaris
Our safari holidays in Tanzania visit a vibrant and beautiful country with world-class parks. Safaris have been a way of life in Tanzania for decades; the country is blessed with the winning combination of both superb big game and stunning tropical beaches. You can fly from a Tanzania safari camp in the morning to an Indian Ocean beach for an afternoon swim.
Because the country is vast, it helps to think of Tanzania holidays falling into four broad areas: the famous 'northern circuit' safaris; the wild parks of southern Tanzania; the remote safaris of western Tanzania; and the beaches of the coast & islands.
Mafie Adventures team is dedicated in providing unwinding experience, our time and passion in the field is extraordinary. We will take you to the places where your adrenaline will remind you again on the experience and your soul will fall in love with Africa and its value. Our years of experience and knowledge as qualified climbing guides and safari tours operation in Tanzania assures you an experience you can remember a life time.
---
Our Services
Safaris tour
Mountain Climbing
Holidays & Historical site visiting
---
aviram sparsky
2022-01-03
once in a lifetime experience Excellent guides, excellent food, they take care of you 100% , and u will need it They have all the stuff u need And they very responsible
ספארי+מרו אני רוצה לספר על החברה של ארסטוס לקחנו אותו מהמלצות בפייסבוק וזו הייתה החלטה מעולה! ארסטוס דאג לנו עוד מהארץ, שלח הודעות התקשר בוואטאספ והיה זמין לכל שאלה וחשש! לקחנו איתו גם ספארי שלושה ימים וגם להר מרו ארבעה ימים. הכל היה מאוד מאורגן וידוע מראש ללא תקלות האוכל היה מאוד מגוון וטעמנו מכל מטעמי אפריקה המדריכים היו ככ אדיבים, דאגו לכל דבר בין אם זה להסביר על חיה או על הדרך ועד להביא לי יד כשקשה בירידות של הטרק להסעות לשמורות מבית המלון ולהגיע יום לפני ולהסביר מה הולכים לעבור אני חייבת לציין שקשה לי מאוד לנשום (אסתמטית) והמדריך היה מאוד סבלני הלך לאט והאמין בי שאצליח להגיע לפסגה
The climb to KILIMANJARO Excellent people, happy to help every time! A great chef with great food all the way! The climb was hard but there was always a guide next to me so you will make it to the top!
More than excellent!! This was one of the most amazing experiences I have had in my life and Erastus, from Mafie Adventures made everything work out excellent! He took care about everything, even the extra clothes or equipment I will need for this adventure. I went for 6 days with a team of 1 guide, 1 chef and 3 porters and they all made me feel so safe and comfortable. Prosper, Stanslau, Evans, George and David were the best team I could ever had and thanks to them I could make it to the top and have a really nice stay!! Thank you so much, I am so glad I made the decision of doing this with you!
Amazing six days trip walking around and ultimately to the The Kilimanjaro Africa's Highest Point My long time dream to reach the Roof of Africa Uhuru Peak Kilimanjaro 5985m AMSL came true with a very good and professional guidance from Mafie Adventures. Through his team which was very friendly, explanatory, supportive and icouranging, reaching the Kilimanjaro Uhuru peak was possible. I really liked the way his team was organised, food, camping and other services that made the six days trip Via Machame Gate extremely enjoyable. Moreover, following the six days trip to and from the Roof of Africa, I chose Mafie Adventures during my for days Safari to Tarangire, Ngorongoro and the biggest National Park in Tanzania-The Serengeti where the Safari was very well organised to mention a few. We had a plenty of time so we took sometimes to take a look to the wide range of animals we met including the big five. I recommend you choose Mafie Adventures for the Kilimanjaro trip and other Safaris in Kilimanjaro and Arusha regions you will comment more than the few mentioned above.
Very recommended 👌 Great experience! The team was amazing!! Take care of everything. Erastus is the best!! Can manage all the things with smile 😃
We got the whole package! Great Service! We set a 5 day safari trip through Erastus and he took care of EVERYTHING. he came to pick us up from the airport and made sure we had everything we needed. Was very flexible and gave us a great price. He even arrenged for us the 3 day trips , we wanted to do around Moshi. We didn't have to worry about anything. Thanks so much!!
Mount meru We had a very good experience from mafie tours for climbing mount meru. First of all the preparation was very good erastus gave us everything we needed also equipement we didnt took with us, and helped us to also after the climbing. Everything was well organised and the staff porters and guide were very good also erastus was very professional and precise.
Great solo climb! Well with deciding to climb last minute and not being able to do proper research on a guide, I was extremely satisfied. They provided me with good gear/clothes I didn't bring, my guide Walter was patient and made sure I felt comfortable, and the food was excellent. I have heard that other routes are more beautiful, but due to time restraints, coat, and rainy season (this route has huts instead of tents) I chose the marangu route. I still thought it was amazing and was in no way disappointed! It felt a bit strange being the only hiker (only ran into 3 others from different groups in camp), but it was also very peaceful and the team took good care of me.
הכי טובב בטנזניה מומלץ מאוד !!! עשינו ארבעה חברים גם ספארי וגם את הקילימנג׳רו עם ארוסטוס הבעלים של החברה , היחס והדאגה לכל אחד מאיתנו היו המון מעל המצופה, גם כשלא היינו איתו בטיול נעזרנו בו הרבה , ארוסטוס בן אדם מאוד מקצועי והוגן, ממש מצחיק וידידותי ( במיוחד לישראלים) ממליץ לכל מי שמתכנן טיול לטנזניה לדבר איתו לפני ולסגור איתו!!